A GREAT concert: Back City Woods, Packway Handle, & The Law Band
by Louise | February 27, 2014 9:35 am
How do you know that you are at a good concert? The music flows, you happily listen, bobbing your head in approval of a night well spent. But a GREAT concert? You can barely contain your excitement and find your heart busting at the seams! That was my experience last Friday night at Cox Capital Theatre in Macon, listening to Back City Woods, Packway Handle and the Law Band play their hearts out.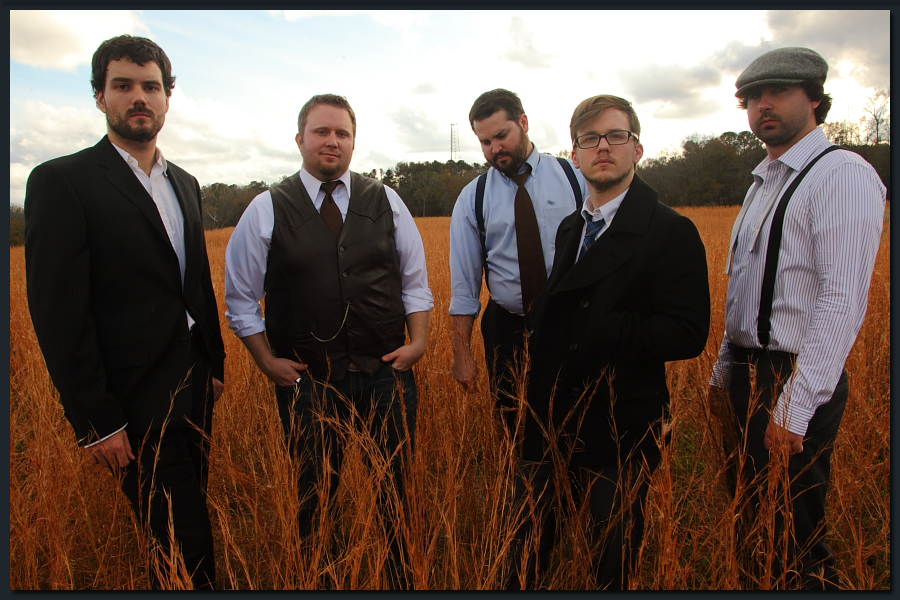 [1]
Back City Woods, a band that affectionately cites Macon as "the place it all started" for them, took the stage first with graceful energy. I have known the band members for several years now and their live performances never disappoint. They jumped right into the music with a passion that flowed organically out of every member onstage. Daniel NeSmith, who was interviewed on Make It Work Molly pre-show, sings with emotion that ranges from a country growl to a soft honesty. Sterling Waite is a multi-instrumentalist mastermind who didn't miss a beat. James Lengel holds a beat that keeps every toe tapping. Kevin Ogle delivers driving bass lines and great enthusiasm, jumping to the rhythm of each song. And let's not forget Cal Mathis who in a bluegrass-inspired band has quite a job as rhythm guitarist and holds down the job like it's nothing! The word that immediately came to my mind while listening to these guys do their thing is synergy! Not only are they individually talented and well-rehearsed but there is this quality to their playing that goes beyond the technical. They genuinely believe in what they are doing. The audience was treated to a taste of some of the newer tunes they have been crafting. What can we expect? An expansion of the rock elements without careless abandonment of their roots. Brace yourself…this band is truly taking off!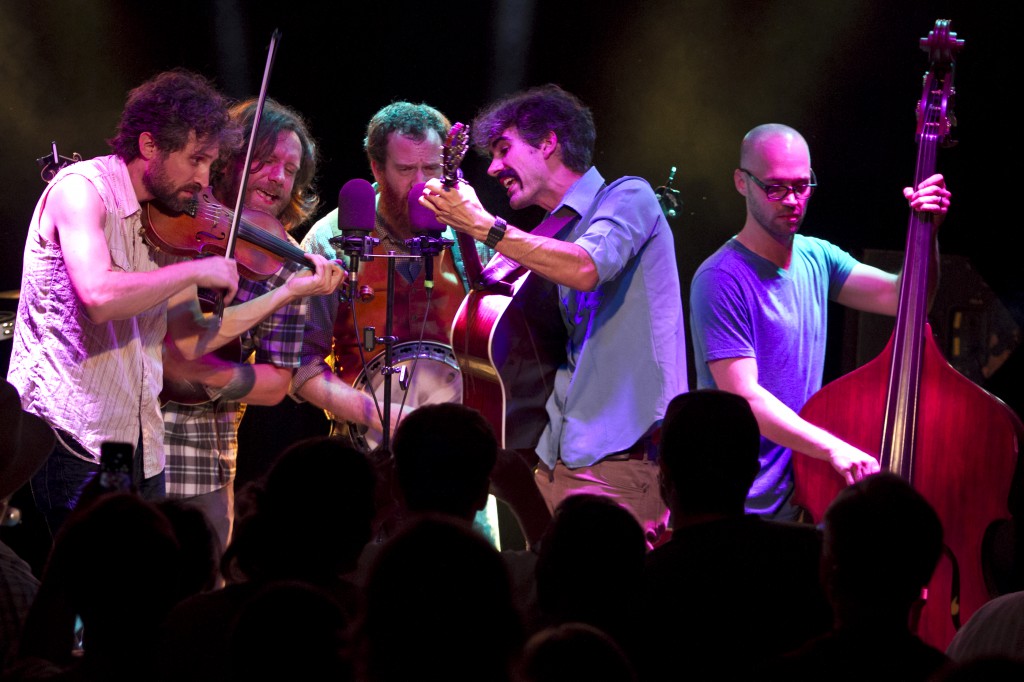 [2]
Next up was Packway Handle! I have had the pleasure of seeing this group perform once before and was excited to catch them again. Tipping a hat to the traditional bluegrass bands, they performed in a close semi-circle with a mandolin, fiddle, and a banjo in the mix. They were perhaps the most theatrical group of the night. From my seat farther away, I was entranced by their tight melodies, spot on picking, and wild creativity. It wasn't until I took a front row seat below the stage that I got the full benefit of their performance. Every lyric was acted out with intense expressions and determined movements. One of the most unexpected moments of the entire night was when one of the members delivered an almost operatic vocal performance that was at once skilled and utterly primal and then transitioned into beat-boxing! The last thing you might expect from a bluegrass band! But the band kicked in and tied the string on this musical balloon, bringing it back to its center before it could float away. It was a marvel. The crowd responded with great enthusiasm when they played their self-aware and humorous tune "What is a Packway Handle?" They ended on high note with vibrant energy. The same band member that gave us the beat-boxing performance earlier in the set, collapsed dramatically on the floor only to rise when the band started moving equipment. It was clear that they had just as much fun making the music as the crowd did dancing to it.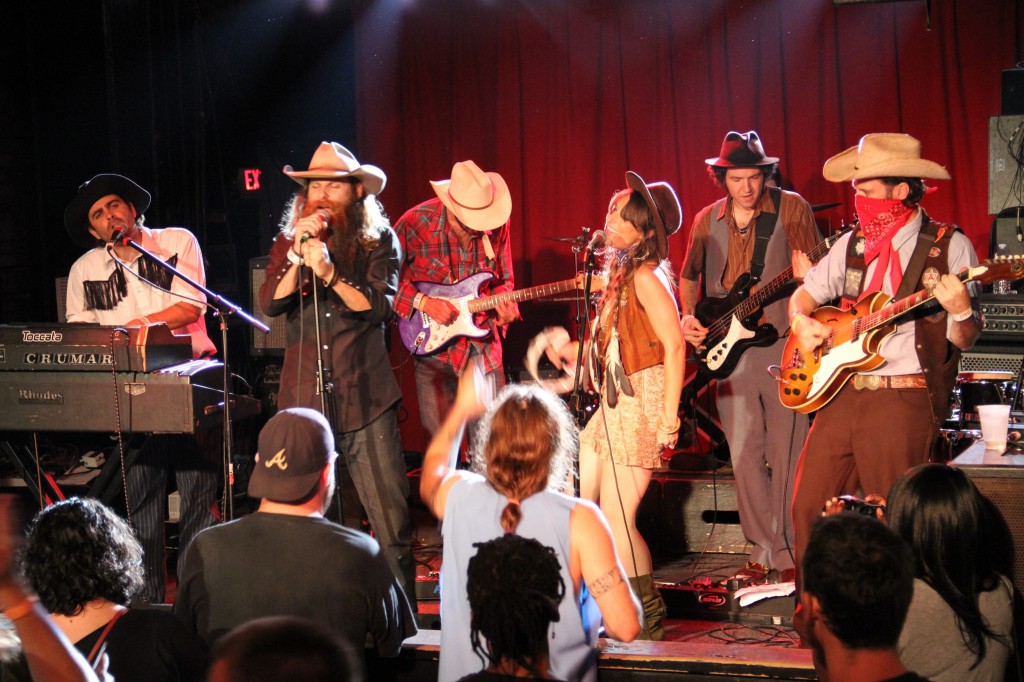 [3]
Last, but certainly not least on the roster was The Law Band. This was the only band of the night that I had not seen before. When I told a friend that I would be in attendance of their show, he assured me I was in for awe-inspiring performance and oh boy, was he right! Their stage presence was immediate, engaging and drawing everyone in the building closer towards them. They moved as a cohesive unit, ready to let the music pour from their souls. Their songs were a mesmerizing blend of rock and country, backed by a strong, driving beat. They had a clear sense of their own auditory identity and were dressed for the part, donning hats, boots, and vests. The Law Band also had a gift for theatrics, acting out the rich, dark tones of their music by using their physical presentation and general demeanor. In other words, they know who they are and just plain rock! The band shot out of the gate like a bullet. Their front man, Chandler McGee added gritty, bluesy vocals that painted the scenery of rebellious, musical wanderers ready to take on the town. Nancy Kaye, the only girl onstage the whole night, captivatingly swayed to the music giving the perfect vocal contrast to McGee. As with Back City Woods and Packway Handle, it was obvious each member was uniquely talented and had a found a way to enhance each other's gifts. The enthusiasm could not be contained!
So how do I know that I witnessed a GREAT concert? When the show was over, I was more energized. Every single performer gave it their all and I left feeling truly inspired.
Louise
Endnotes:
[Image]: http://makeitworkmolly.com/wp-content/uploads/2014/02/bcwfrontpic.png
[Image]: http://makeitworkmolly.com/wp-content/uploads/2014/02/Packway2.jpg
[Image]: http://makeitworkmolly.com/wp-content/uploads/2014/02/lawband.jpg

Share

: #
Source URL: http://www.southernbonvivant.com/a-great-concert-back-city-woods-packway-handle-the-law-band/
---